Browsing all articles tagged with shanghai
As the law has changed regarding pet dogs in Shanghai (again), here are the steps to get your dog licensed.
The new rules state that people can only own 1 pet per household from now on.
The only exception to this is where you had more pets previously licensed in your household; you can continue to renew their licenses, but not add new dogs.
Note that the instructions below are for Xu Hui District, but are similar for other districts.
I suggest buy a plastic file, and keep all related paperwork together.
To succeed in this mission, you'll need patience, some cash, and some kind of canine.
Ouch that hurt! aka vaccinations
Bring
Dog
Money (few hundred rmb).
In Xu Hui district (also would be ok for other districts), this is the large pet hospital at 2451 Xie Tu Lu
带狗去斜土路2451号打疫苗
You'll need to ask for a "gou yi miao ban zheng" 办理狗证续证
The dog will get a vaccination shot, price for this varies depending on which vet you visit, but should be less than 100rmb.
You'll also get a piece of paper. This is called a da zhen ping zheng. This is important, don't lose it!
If your dog has never been licenced before, you will also need to get an id implanted too.
This is a small rfid tag that gets injected somewhere around the neck area.
This will also cost somewhere in the less than 100rmb range.
You'll also get a piece of paper for that, again, don't lose it.
If you don't have the magic piece of paper, have the vet make another one for you. China runs on small bits of paper that are easily lost, so make sure that you have anything you possibly may need in a folder.
Lastly, don't forget to get an official fapiao for the above, and keep that together with everything else.
The Joy of Paperwork! (at your local neighborhood police station)
Bring
The rental contract for where you live (or a property ownership book if you own your apartment).
Your Passport (with your work permit / residence permit inside).
The 2 or 3 papers from the vet that you got in step 1.
Your dog.
More money (500rmb)
In Chinese that looks like this – 带上狗证,房产证,护照去徐汇区湖南派出所登记
Take all of the above to your local police station.
(Not all do licenses, but they'll be able to point you to which one in your district is responsible for doing dog licenses)
In Xu Hui district this is on Xiang Yang Lu, near Fuxing road (opposite the fake electronics mall)
    电话:23037446
    办公时间:8:30am-5:00pm
    地址:襄阳南路203号靠近复兴中路( Xiangyang Nanlu 203#(Near fuxingzhonglu)
Give them all the paperwork you have so far, and 500RMB.
They should give you another slip of paper with a receipt, and a date to come back.
OR they'll do it all there and then.
This depends on your districts setup.
Success!
Whichever of the above, at some point you'll collect a pack of goodies!
This will include a dated sticker (this should be stuck on your door)
A Dog licence photo id card (this should be carried whenever you walk your dog).
A dog tag (which you should put on your dogs collar).
Plus some other assorted bits and pieces depending on which dog food company is sponsoring the gifts (last year was a bowl and some dog food).
I usually make copies of everything, and put into that file I told you to make in step one, and throw it into a safe place.
Currently you don't need to bring photo's, but from the 15th of June 2011, you'll need to bring photos.
One side view, and one front view of your dog, in passport photo sized (1×3″) shots.
This was immense fun last time I tried to do this, as my dog doesn't want to sit still for photo's, and it took a while to get that done.
At time of writing this is all currently correct, but rules change (eg the we're not sure about the photo's thing yet), so have a chinese person call, and confirm first. Make sure that they ask for a clear answer that you understand, as its not unknown for people in China to forget to tell you about some essential item you need to bring, so ask clearly for what exactly is needed, and have them repeat it out to you.
Good luck!
As I've been doing a bit more hardware stuff recently, I thought I'd get some more tools.
Yes, Taobao is wonderful 🙂
I already have a scope – the eminently hackable Rigol DS1052e 50mhz (now running at 100mhz cough).
I already have a bench PSU.
I also have a JTAG device (although its a chinese clone, but hey, it works).
… and I also have a whole bunch of ttl -> rs232 adaptors (as they fry when you're not careful).
I also have a 3d printer 🙂
I also have a few Arduino bits and bobs, as well as some much more capable ARM dev kits (which I prefer).
What more could I want?
Well, a bus-pirate – but Seeeeeeeeeeed studio still haven't gotten their sh*t together, and I can't seem to order from them.
Grumble. Tried again today, but my credit card is rejected as usual. Works on every other site, but theirs..
Still, whilst checking out Seeed Studio's blog I noted that they mentioned Shanghai (finally!).
Apparently, there's a hardware hacker dev lab *right* by where I used to live.
They're up on 50 Yong Jia Lu / website is – http://xinchejian.com/.
I still can't believe I hadn't heard about them.
Also slightly annoyed that I missed the last few open days they had.
Going to have to go visit after CNY, and make some friends there 🙂
Lawrence.
The new year has arrived, and so has cheaper pricing for internet access at home.
Currently for home use, there are 3 options for internet over fixed lines.
China Telecom with ADSL over Copper / FTTB+Lan / FTTH
China Unicom
Orient Cable
Incumbent China Telecom has reduced their rates significantly since last year, as Unicom is encroaching on their space.
Lets start with Unicom's packages:
The latest pricing for 2011 for Unicom is here:
http://www.sh.chinaunicom.com/family/ywcp/jtkh/kdl/index.html#lt_dw_md
Unicom can provide up to 30M for home use (assuming your area can have Fibre access via FTTB+Lan or FTTH)
10M is 198 /month
20M is 248 / month
30M is 288 / month
If you don't have fibre, and can only get ADSL lines, then your max speeds will be 4M – 6M depending on distance from the local substation.
4M is 144 / month
6M is 168 / month.
Shanghai Telecom has committed to rolling out Fibre to all users by 2013 though, so most areas will start to see fibre availability coming soon.
Shanghai Telecom
Shanghai Telecom pricing is obviously being directly targeted by Unicom's. Each Unicom price point has been aimed squarely at beating Telecom's.. Competition is good, although Unicom could do better. Shanghai Telecom has far better backend infrastructure though, and that's going to take time for Unicom to improve on.
Shanghai Telecom's current best value package is this:
http://sh.ct10000.com/pptc/ehome/bundle/e8/gwe8sqb/
This offers 10M internet (again with the caveat of Fibre availability in your area) for the sum of 188RMB a month. If you don't have Fibre, they reduce that price by 10RMB and provide the standard 2M / month (which in comparison with standard adsl rates is not a good deal).
They sell this as a bundle with Telephone access also, so you get reduced phone rates too.
This includes a few other random things like incoming caller ID and custom ringtones for your callers, as well as 30hrs of monthly wifi access assuming you need to use or can find their wifi when around town.
Bundles are:
E8 – ( http://sh.ct10000.com/pptc/ehome/bundle/e8/gwe8sqb/ )
10M – 188rmb /month.
E9 (http://sh.ct10000.com/pptc/ehome/bundle/e9/zxe92011/)
20M – 369rmb / month
Orient Cable
Last and least, we have Orient Cable. OCN rates are here
http://www.ocn.net.cn/gsgg_cuxiao07.html
I'm not going to bother listing their package in detail, as its pretty crappy.
1M for 110 / month.
Looking at the options, my pick for best choices would be
Fibre users:
China Telecom at 188rmb / month with 10M if you can get it value for money wise.
For the speed demons China Unicom for 30M / month.
ADSL only:
China Unicom for their 4M or 6M options if you can only get ADSL installed in your area.
Unicom's may not offer this in your area though, so you may be stuck on the standard 2M for 150/month till they upgrade lines.
Good luck!
China Mobile may start coming to their senses at some point and offer unlimited fixed wireless, but for now their offerings are too expensive for home use.
Lawrence.
Although I'm loathe to call ourselves a corporation – we're not!, we do try to do the odd bit of good for the community, whether locally, or regionally.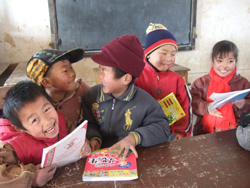 Last year saw our first donation to the Library Project. The Library Project is a worthy cause, and donates books and libraries to under financed schools and orphanages in the developing world.
Computer Solutions donated funds for a Library, which ended up going to Chen Jia Gou Elementary school in Shaanxi province.
Link to our donated library here – http://www.library-project.org/libraries/chen_jia_gou_elementary_school.html
We also donate support to a more local cause – LifeLine Shanghai.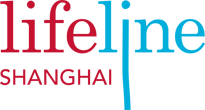 Computer Solutions has been providing complementary IT, and Web Services for a number of years now for Lifeline. Last year, after a few months of persuasion they finally agreed to let us redesign their existing volunteer created website too.
Our design team took note of LifeLine's requirements, and came up with something more visually appealing, with a clearer layout and site structure. Visit their site here – http://www.lifelineshanghai.com
Lastly, we also support a cause which donates items and books for schools up in Qinghai. We've previously donated computers, funds, and other items to help out. More info about that here: http://www.tonyphotoshop.com/forum/index.php?topic=4.0. Do your part too, and help out, donations of clothes and other items are very welcome!
Lastly, if you are a charity organization in Shanghai, or China, and would like us to assist you in some way, please contact us. We're more than happy to donate our services to worthy causes.
One of the (not so) fun things about China is that almost everything needs to be licenced.
As part of the China bureaucracy plan, all forms of wheeled transport in Shanghai require a licence (yes, even bicycles!).
Riding motorized transport without one is not recommended, as this can lead to fines, deportation, and jail in worst case scenario's.
This has been documented enough times by those unfortunate enough to knowingly break the law.
Electric Bikes/ Scooters are not exempt from requiring a licence, despite what the nice man at the shop selling you the bike, or others might say.
To be street legal in Shanghai, you need a plate.
1) Only bikes purchased in Shanghai can get a Shanghai plate.
Keep your official receipt (fapiao) when you buy the bike, as it needs to be used to get your licence.
2) As of a law passed in April 2008, Shanghai Electric bikes have to be:
* Under 40kg.
* Not capable of speeds faster than 20km/hr.
Effectively this means only bikes < 36v. * Listed in the allowed vehicle database for Shanghai. Legal bikes have a 15 digit unicode (like a car VIN) which is unique. Manufacturers have to apply for a production licence for this, and not all have done so. A list of licenced manufacturers is available here: http://www.shbicycle.com/Article/ShowArticle.asp?ArticleID=6230
If you own a bike that is older than that date that does not conform to the above, and you had a legal licence at that time, then it can be renewed each year, and its still legal.
3) To licence an electric bike/scooter/moped you need to visit the police station for your district.
You will need to bring:
* – The fapiao for the bike
* – Valid form of ID (Passport for foreigners)
* – The bike
* – Money to pay for the licence (11rmb currently)
—–
FAQ's:
Can I use a legal plate from another province?
eg Jiangsu…
Possibly No, with some caveats –
It is not legal to ride with an out of town plate unless it is a weekend, or public holiday. You can be fined 200RMB if caught riding outside of these times, although this is unlikely. This is a grey area though, so police attitude to this may vary/change. While having a plate is better than not having a plate, it may not help if you have an accident.
Can I carry a passenger?
According to the law, no.
Is is illegal to drive without a plate?
Yes. Being a foreigner does not exclude you from following the law.
Do I need a driving licence for an electric bike/moped/scooter?
No.
Is there an official list of legal bikes?
There are 2 official sites where you can check if a bike is legal – http://www.shbicycle.com and http:/www.shjtaq.com
A current list of legal bikes with photo's is here:
http://www.shbicycle.com/Photo/ShowClass.asp?ClassID=84
You will need Chinese reading abilities to read either site.
Instructions below for non illiterate:
市民在购买电动自行车时,可以通过上海市自行车行业协会网站上(HTTP://WWW.SHBICYCLE.COM),或上海交通安全信息网(网址: HTTP://WWW.SHJTAQ.COM,点击首页右上方的 "车/牌/证公告"栏目中的"上海电动自行车—上牌备案登记表")查询该目录。
Are the cool Vespa lookalikes legal?
No.
The Vespa lookalikes / Spicy Motors bikes are not street legal for various reasons – weight, voltage, speed (unless you have a 2008 model licenced prior to 8/2008).
Additionally, they are not listed in the police database of allowed models.
…but XXX / Bike shop / my friend etc says its legal?
In short: They're lying.
Caveats:
If you are in living a city other than Shanghai this may be ok.
Different cities, different rules.
If the bike is 2nd hand, and has an existing legal Shanghai licence, and it has been renewed each year, then it is also ok (albeit extremely unlikely).
Otherwise, see the short answer.
What about repair / warranty?
By Law, bikes have a "三包" (threefold warranty).
If you have issues within 7 days the seller is legally obligated to give your money back if you so wish.
Within 2 weeks, you are guaranteed a replacement bike.
Within 1 year, if you have more than 2 of the same type of failure, they have to replace, or you can get your money back less depreciation.
Consumables such as lights are not covered by this, nor are collisions..
Parts have the following warranties (by law):
Motor: 2 years
Frame, Fork, Charger, Controller, Battery: 1 year
*For batteries, failure is deemed as holding < 60% of original charge. More details here: http://www.shbicycle.com/news/ShowArticle.asp?ArticleID=43
Note that it is while it is illegal for shops to sell bikes that cannot be licensed, many still do.
Where can I licence my electric [bike/scooter/moped]?
Addresses for each district:
Bao Shan
宝山区 凇兴西路长征新村23号 56672872
Chang Ning District:
长宁区
天山路11弄12号
62747031
No 12, Lane 11, Tian Shan Lu
Hong Kou:
上海市丰镇路118号/上海市水电路1656号
上午8:30—11:30;下午13:30—17:00 周五下午不
受理 65161561
Feng Zhen lu / 1656 Shui Dian Lu
Closed Friday morning.
Huang Pu District:
黄浦区
山东南路49号
63289464
49 South Shan Dong rd
Jing An
静安区
昌平路372号
62539361
372 Chang Ping road (off Shaanxi road)
Lu Wan District:
思南路、香山路 交界拐角处--卢湾区非机动车管理处
卢湾区 思南路46号 63275000
46 Si Nan lu / Xiang Shan lu
Min Hang District:
上海市沪闵路4888号(莘庄镇靠近颛桥)
上午8:00—11:00;下午13:00—16:30
6489 1010-3015
4888 Hu Min lu
Nan Hui District:
南汇非机动车管理所:
上海市南汇川南奉公路6116号
上午8:30—11:30;下午13:00—17:00
电话58021896
Nan Shi District (Southern parts of City?):
南市区 中山南一路161弄5号 63138859
Pu Dong District:
浦东非机动车管理所:
上海市浦东新区杨高中路1500号上午:9:00—11:30;下午13:30—16:30 周五下午不受理电话28946594
or
浦东新区 浦东南路3640号 58394097
1500 Yang Gao Middle Road
or
3640 Pudong South Road
Putuo District:
普陀区
芦定路325号 52811677
Xu Hui District:
龙吴路2388号,徐浦大桥下面
2388/2138 Long Wu Lu, underneath Xu Pu bridge
徐汇区 龙吴路2138号(徐浦大桥) 64340579
Yang Pu District:
杨浦区
双阳路357号
65433020
Zhabei:
闸北非机所
上海市天目中路707号
上午8:30—11:30;下午13:30—17:00 周五下午不
受理 63172110
Also 闸北区 共和新路1985号 56650065
707 Tian Mu Middle Road
While I'm more of a 回力 (Hui Li) sneaker fan – I own about 5 pairs now!, I will give Kudos to Nike, for this well made video for whatever sneakers they're pimping out these days.
Shot in and around my neighbourhood (from all the locations that I'm spotting, and going, wait a second!), it features a man running around town with nothing but a pair of…
You'll have to watch the video for more:
How to get a Motorbike licence in Shanghai (from Scratch)
Go to the motorbike test place, and get the application forms. (see graphic below with address and chinese instructions).
They will charge +-200RMB and send you to do the paperwork trail around Shanghai (mostly Minhang, with bits of Pudong depending on where you are living)
Go to the driving licence office –
Shanghai Drivers License Building:
Gate 3, 179 Qing Chun Road , Xin Zhuang (Near Chun Shen Road / Hu Min Road ). The tel. no. is 021-64987070 x 54280 or 54279
Take Passport, Drivers licence (I have a Chinese Car drivers licence), proof of Address. Residence/Work Permit (Z Visa), Photo's
Have multiple photocopies of everything with you.  Tell them you are applying for a motorbike licence, they will give you a piece of paper with your name address, and chop it.  Off to the medical (close by).
If its more than 1 year since you did your last driving licence test, you'll need to redo it.  This will need to be booked.
The only place in Shanghai that conducts tests in english is in Minhang.  I did my first test in Chinese, as they didn't have foreign tests back then!
Questions / Answers are in the graphic below.



Get a medical checkup.  They will give you a chopped piece of paper, don't lose it, or neglect to get it.
Medical Checkup is done on the 3rd floor of the Dong Ming lu / Minhang
1st floor, application – 60RMB
2nd floor – photo's and fill in the forms. (photo's included in the price)
3rd floor – get the medical (takes about 2 minutes for all the windows, the ladies are very nice and helpful).
Back to the motorbike test place with all the paperwork, and give them the forms so far, and your passport.  They will go do the rest of the application, and give you a call in a few days to collect passport.  They will keep the rest of the forms until the licence is completed.
Currently its 750RMB to apply for motorbike lessons/ licence.   If you need to rent a motorbike at the test centre, that will cost an additional 450RMB
You'll need at least 5 hours of lessons at the motorbike test place, possibly less if you know how to drive a motorbike already.
Once lessons are completed, you will book a road test, hopefully pass, then back to the Drivers Licence Building for a reissue of your new E licence!
My Bike is below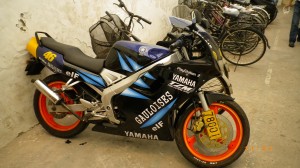 Archives
Categories
Tags
PHOTOSTREAM