Browsing all articles from January, 2009
We experienced an outage this morning when one of our mail server hard drives failed, causing mail to stop.
The hard drives will need to be replaced in order to ensure data is protected.   As replacement will necessitate some downtime while spare drives are being installed, and existing ones replaced, I have scheduled this for later tonight, or early tomorrow morning.
The new drives have been ordered, and we are waiting on their arrival.
Replacement will be done out of normal office hours in order to minimize further inconvenience to clients.
We expect the server to be down for 20 minutes when we first add the new drive, then for a further 20 minutes  2-3 hours later once online backups have been copied over to the new drive.   We will update the blog with expected outage times once we have further details.
UPDATE
Seems the drive failure(s) are due to a firmware bug in the hard drives..
http://mswhs.com/2009/01/21/seagate-hard-drive-firmware-bug/
We've replaced drives in 2 servers so far (I replace drives yearly as a matter of principle), and still need to change another 2.
Unfortunately as one of our other servers drives decided to crap out in sympathy, the 2 drives I had for replacements had to be used immediately in different machines (thank you very much Seagate for ruining my day)
61.129.88.213 and 61.129.88.233 have both been replaced with Western Digital drives
61.129.88.121 and 61.129.49.190 both need to be replaced still.  This will get done as soon as I can arrange additional units this week (26th Jan+-).
72.51.39.20 and 61.129.65.217 are not using Seagate drives, so don't need to be changed thankfully!
We have also replaced the fan's in all the servers while we were doing maintenance.
Please bear with us while we complete our replacements.
Last time we buy Seagate…
Further reading –
http://seagate.custkb.com/seagate/crm/selfservice/search.jsp?DocId=207931
http://hardware.slashdot.org/article.pl?sid=09%2F01%2F17%2F0115207&from=rss
Shanghai Telecom is experiencing routing issues in some area's to some of our servers.
This is not/not a problem with our servers or service, but a routing issue at the telecom side (essentially some area's don't know how to talk to other area's)
Shanghai Telecom are working on it, and we will update when we have more information. [Resolved as of 9th Jan for all area's]
Affected clients are not able to access all of our servers from their location.
Jing An, and Putuo area seem unaffected – no issues reported from those area's.
People in affected area's will have to wait until Shanghai Telecom resolves their core router issues.
How to get a Motorbike licence in Shanghai (from Scratch)
Go to the motorbike test place, and get the application forms. (see graphic below with address and chinese instructions).
They will charge +-200RMB and send you to do the paperwork trail around Shanghai (mostly Minhang, with bits of Pudong depending on where you are living)
Go to the driving licence office –
Shanghai Drivers License Building:
Gate 3, 179 Qing Chun Road , Xin Zhuang (Near Chun Shen Road / Hu Min Road ). The tel. no. is 021-64987070 x 54280 or 54279
Take Passport, Drivers licence (I have a Chinese Car drivers licence), proof of Address. Residence/Work Permit (Z Visa), Photo's
Have multiple photocopies of everything with you.  Tell them you are applying for a motorbike licence, they will give you a piece of paper with your name address, and chop it.  Off to the medical (close by).
If its more than 1 year since you did your last driving licence test, you'll need to redo it.  This will need to be booked.
The only place in Shanghai that conducts tests in english is in Minhang.  I did my first test in Chinese, as they didn't have foreign tests back then!
Questions / Answers are in the graphic below.



Get a medical checkup.  They will give you a chopped piece of paper, don't lose it, or neglect to get it.
Medical Checkup is done on the 3rd floor of the Dong Ming lu / Minhang
1st floor, application – 60RMB
2nd floor – photo's and fill in the forms. (photo's included in the price)
3rd floor – get the medical (takes about 2 minutes for all the windows, the ladies are very nice and helpful).
Back to the motorbike test place with all the paperwork, and give them the forms so far, and your passport.  They will go do the rest of the application, and give you a call in a few days to collect passport.  They will keep the rest of the forms until the licence is completed.
Currently its 750RMB to apply for motorbike lessons/ licence.   If you need to rent a motorbike at the test centre, that will cost an additional 450RMB
You'll need at least 5 hours of lessons at the motorbike test place, possibly less if you know how to drive a motorbike already.
Once lessons are completed, you will book a road test, hopefully pass, then back to the Drivers Licence Building for a reissue of your new E licence!
My Bike is below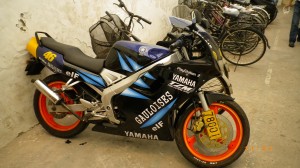 Archives
Categories
Tags
PHOTOSTREAM