How to get a Motorbike licence in Shanghai (from Scratch)
Go to the motorbike test place, and get the application forms. (see graphic below with address and chinese instructions).
They will charge +-200RMB and send you to do the paperwork trail around Shanghai (mostly Minhang, with bits of Pudong depending on where you are living)
Go to the driving licence office –
Shanghai Drivers License Building:
Gate 3, 179 Qing Chun Road , Xin Zhuang (Near Chun Shen Road / Hu Min Road ). The tel. no. is 021-64987070 x 54280 or 54279
Take Passport, Drivers licence (I have a Chinese Car drivers licence), proof of Address. Residence/Work Permit (Z Visa), Photo's
Have multiple photocopies of everything with you.  Tell them you are applying for a motorbike licence, they will give you a piece of paper with your name address, and chop it.  Off to the medical (close by).
If its more than 1 year since you did your last driving licence test, you'll need to redo it.  This will need to be booked.
The only place in Shanghai that conducts tests in english is in Minhang.  I did my first test in Chinese, as they didn't have foreign tests back then!
Questions / Answers are in the graphic below.



Get a medical checkup.  They will give you a chopped piece of paper, don't lose it, or neglect to get it.
Medical Checkup is done on the 3rd floor of the Dong Ming lu / Minhang
1st floor, application – 60RMB
2nd floor – photo's and fill in the forms. (photo's included in the price)
3rd floor – get the medical (takes about 2 minutes for all the windows, the ladies are very nice and helpful).
Back to the motorbike test place with all the paperwork, and give them the forms so far, and your passport.  They will go do the rest of the application, and give you a call in a few days to collect passport.  They will keep the rest of the forms until the licence is completed.
Currently its 750RMB to apply for motorbike lessons/ licence.   If you need to rent a motorbike at the test centre, that will cost an additional 450RMB
You'll need at least 5 hours of lessons at the motorbike test place, possibly less if you know how to drive a motorbike already.
Once lessons are completed, you will book a road test, hopefully pass, then back to the Drivers Licence Building for a reissue of your new E licence!
My Bike is below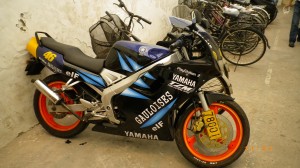 Archives
Categories
Tags
PHOTOSTREAM