Browsing all articles from May, 2016
The SSL certificate for the all servers have been updated to use a wildcard certificate.
We *finally* changed over to use a wildcard cert, as pricing has come down enough to not warrant having separate certificates per server.
Our new wildcard certificate is valid until 2019.
What does this mean for you?
The bad news
Really old browsers won't be able to open our site
If you are an XP user running IE6, you won't be able to load our encrypted sites anymore. We strongly suggest you upgrade though if you fall into that category!
Same goes for those running Android 2.x (which is equally ancient in computer terms).
The good news
Email is now encrypted point to point using AES256 SHA encryption where possible, and webmail is SHA256 encrypted from server to your browser.
Mail servers that support it (i.e. all of ours, plus the major providers like Google, Yahoo etc, will send encrypted mail to our servers).
Mail Headers will include things like the below if encryption is supported –
Received: from usa4.computersolutions.cn (162.210.36.26) by mail.computersolutions.cn with AES256-SHA encrypted SMTP;
Lastly – our new cert gets us a test rating of A at the SSL Labs site.
https://www.ssllabs.com/ssltest/analyze.html?d=computersolutions.cn&latest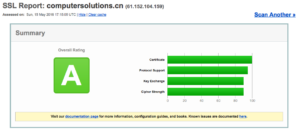 Archives
Categories
Tags
PHOTOSTREAM