Browsing all articles tagged with mao
As its been a long while since I've done a non computer related post, its now time for something completely different.
Anyone who has visited our office has noticed that we receive a bazillion packages daily from my various shopping exploits on Taobao, slayer of money.
I just bought a new house back home, which has started competing with Taobao on the where do I spend my spare change, and I've been interested in decorating it with some "art".
Yes, I know that one persons art is another persons 'meh – you like that? icky', but each to his own.
I found a gorgeous looking hi-res map of Shanghai for sale at one quite nicely designed store ( http://www.image1000.cn/ ), and contacted the seller.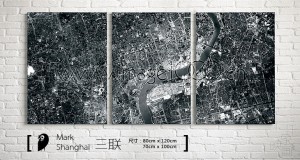 Unfortunately he couldn't sell the canvas image on a roll, as I needed for easy shipping back home, and could only sell pre-framed.
Roll on two weeks later, and I was still thinking about having that in my lounge back home, so decided on making a test order to check out the packaging, and its survivability vs Shanghai kuaidi (delivery) companies.
I picked a minimalist dot version of Mao for 100RMB including shipping, and ordered.
Two days later, Mao arrived.
Unpacking below:

Fresh from the Kuaidi company!

Nice packaging touches.

Uh oh!

Still well packed.

Kuaidi vs Packaging, who will win?

More uh-oh..

Packaging wins (although it was a close call).

Phew, looks ok.

Inside packaging (really really well packaged!)

Even comes with the hanging equipment, which is a nice touch.

So much attention to detail (plastic cover strip for acrylic front frame "glass")

Its Twister!

Oh wait, no, its Mao 🙂

Amjellybaby models the artwork.

Finally, in situ!
Overall, reasonably happy with this. Price is reasonable, and it (barely) survived the shipping company, so I think there would be a chance that a slightly better packaged version (i.e. adding a few layers of bubble wrap on the outside) will survive.
So, looks like I'll be springing the 900rmb odd for the large canvas map version.
Wish me luck!
---
Addendum
Ordered the large triptych and crossed my fingers that it would survive Emirates.
It made the journey in better shape than the Mao print above did across Shanghai. No dents and zero issues.
Here they are in my new house, awaiting hanging…
Pricey at 900rmb, but worth it. Now I can point at locations on the satellite image and tell people I was here when they come visit the house!
2nd Addendum – final shot of this in place, finally on the wall after 2 weeks of sitting on the floor…
Archives
Categories
Tags
PHOTOSTREAM