Browsing all articles tagged with hackintosh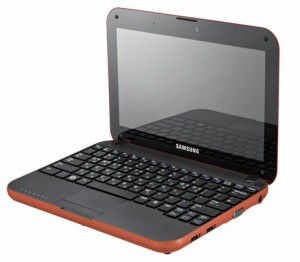 UPDATED May 5 2010
Note: I don't personally own an N310. I don't have access to one either, as the owner of this one went back to the States with it.
Updates to this page are mostly from the comments people have made. When I can assist I have / will, but as I don't own an actual N310, I rely on you for feedback!
One of my friends brought round a notebook for me to Hackintosh yesterday. Unlike the usual god no… kind of options I get given, this is actually a nice machine.
This one is almost as Mac friendly as my current Nano sized Hackintosh (aka Loz's Hackbook Nano)
I present the next best thing in Mini Mac's (until the will it? won't it? Mac Tablet comes out! (ok, so it came out already, and its a bit meh..) ) – The Samsung N310
The Samsung is a generic Atom based Netbook with the following hardware:
CPU Intel Atom N270, 1600 Mhz
Chipset Intel 82945GSE Graphics Controller
Graphics Card Intel GMA 950
Audio Realtek ALC272
Wifi Atheros AR5007EG Wireless
Ethernet Marvell Yukon 88E8040 PCI-E Fast Ethernet
Bluetooth Adapter USB Based Generic
Webcam USB Based Namuga 1.3M
Installation is remarkably easy.
You'll need the following things – an External USB DVD drive, and Snow Leopard.
Suggest before you install anything, update your BIOS to the latest version. This should be something like BIOS version 06BA or newer.
The bios updates are windows only, so you'll need to do that before installing OSX, or have some other method of booting into Windows afterwards (google for Hiren Boot CD 10 for something that will provide a bootable Windows XP amongst other tools).
There are two bios files that are available currently. This first one is the one that you will likely have to use:
http://downloadcenter.samsung.com/content/FM/201002/20100203094911375/Win_N310_06BA.exe
And here is the second one:
http://downloadcenter.samsung.com/content/FM/201003/20100302094206890/Win_N310_01BD.exe
CHECK YOUR VERSION OF YOUR BIOS IN YOUR BIOS. IF YOUR VERSION ENDS IN A "BA", USE THE FIRST ONE. IF IT ENDS IN "BD", USE THE SECOND ONE.
Ready?
Download the latest NetbookInstaller ISO from here – http://osx.mechdrew.com/downloads/
Burn to CD. Connect your USB drive to the N310, and boot off of the newly burned CD.
Follow the instructions to swap with your Snow Leopard DVD at the appropriate time, and boot into the installer.
Install as normal (in my case, I just wiped the existing partitions, set the boot type to GUID instead of MBR in Partition, Options, and did a full install)
Once the OS reboots (or finishes with a cannot install error right at the end – don't worry, its not a problem!).
Reboot into the NetbookInstaller ISO again, but this time choose the HDD (as we still need to install a valid bootsector for the OS to run)
The OS should boot up ok, fill in the relevant bits and pieces, and get to the desktop screen.
Open up NetBookMaker from the CD, navigate to the Tools folder and open NetbookInstaller:
I did this using 0.8.3RC4, but newer versions should be similar. Current version is 0.84rc1 as of April 2010.
Click Continue for the Unrecognized Hardware Prompt.
Choose the correct disk in the Volume Dropdown, and
Check Install Chameleon 2
Check Install General Extensions
Check Generate a System Specific DSDT.AML file.
Uncheck everything else.
Click Install.
It should trundle away for a few minutes, then recommend you reboot.
Remove the NetbookInstaller DVD, and make sure that you can reboot ok from the Hard Drive
Right now you should have working Webcam, Video, Bluetooth, and Trackpad will support 2 finger scroll (go to System / Preferences/ Trackpad to configure)
We're still missing Wifi, Audio, and you'll notice that sleep doesn't quite work yet.
To install those, we'll need to set some BIOS parameters, and replace the wifi card.
Wifi – the original card is a crap atheros. I couldn't be buggered looking for drivers, and immediately swapped it out for a Dell1390 Broadcom card. Cheap, and the same as real Macbooks, so no driver issues. Should be about $8 on eBay (RMB50 or so locally in China on Taobao).
The N310 is reasonably easy to disassemble, just remove all the plastic plugs underneath (including the larger feet ones), and remove the screws. Gently remove the case bottom, and replace the wifi card.
If you use the Dell1390 you won't need to install any drivers, they're built in, yay!
Enabling Sleep / Brightness (working on 10.6.3 / BIOS 06BA apparently ) –
Go into the BIOS and set the following:
EDB = Enabled
Legacy USB Support: Disabled
USB S3 Wake-Up = Enabled
Boot into OSX
You'll need to replace the DSDT.aml from NetbookMaker with the one below.
I've uploaded a DSDT.aml for the n310 here – DSDT.aml.
To use, rename file to DSDT.aml, and copy to /Extra, then reboot.
This also apparently works for Brightness control with the latest BIOS revision on 10.6.3. You'll have to change brightness from the System Prefs / Displays / Brightness though, as the function keys aren't mapped.
Note: If you do mess around with DSDT.aml files, please have a working recovery method available that you can access the hard drive with (eg an OSX Install DVD + Boot132 CD). Apple's install DVD can also be used for recovery.
If you find that you can't boot after installing the DSDT.aml, boot from the Boot132 CD or USB, then boot into to the OSX install DVD. Go to terminal in the installer, and delete the offending file, then reboot.
For the remaining drivers:
Download the zip below for modified Bluetooth (to enable bluetooth on / off keyboard switch), and 10.6.3 compatible Audio drivers (kexts) for the N310.
Thanks to Breathless for modifying the Bluetooth, and emailing me both files.
Samsung N310 Audio and Bluetooth Kexts
Copy to /Extras/GeneralExtensions, then rebuild the Extension cache.
You can do that manually or use a tool. NetbookInstaller nicely places a program called UpdateExtra into the /Extra folder which can rebuild the Extension cache for you. Reboot once done, and you should be good.
Thats pretty much it!
—-
Now you should have a fully working Samsung N310 running OSX Snow Leopard!
The brightness (via Displays System Prefs panel), sleep, audio and bluetooth should all be working fine. The wifi too (assuming you replaced the mini pci-e card as recommended)
The volume on/off keyboard functions should work, the trackpad on/off.
Thanks to Breathless for the feedback so I could update this page.
Good luck with yours!
Useful links:
http://www.kexts.com – kexts (drivers) for OSX
http://www.superhai.com/darwin.html – Power related drivers for OSX
http://osx.mechdrew.com/ – MechDrew from MyDellMini's site on Hackintosh Installs
http://cid-8b65993ef55cf014.skydrive.live.com/browse.aspx/.Public/OSx86/Snow%20Leopard – some Czech site hosted on live.com full of goodies/ kexts
Archives
Categories
Tags
PHOTOSTREAM