Browsing all articles tagged with electronic skateboard
Despite having friends that have broken limbs skateboarding, I decided to buy myself an Electronic Longboard.
I'm still a kid at heart, despite my ongoing age…

The board I chose to buy is what looks like a copy of the Boosted Board. The design is different though, but its close enough to look like a copy of sorts. Mine is from a company called BenchWheel out of Hangzhou, and although mildly expensive, isn't too bad in Electric Skateboard pricing terms, especially in comparison to the similarly specced Boosted board at $1499.
I was originally planning to get the Stary board, as its made in Shanghai, and I was watching their Kickstarter, but sadly they don't seem to want to sell it locally.
So, I scanned Taobao for similar products, and decided on the BenchWheel, as it looked reasonable quality-wise compared to the other options.
BenchWheel is currently available on Taobao for 2899RMB (about 450$USD odd at this moment in time)
They have 2 models for sale – the B board, which is a standard longboard, and the C board, which is a skinnier board at the ends.

I bought my BenchWheel on Monday, had it delivered on Wednesday (the magic of Taobao), and have been riding it for a whole 2 days now. I've never ridden a skateboard or longboard before, and I'm finding it very easy to ride. I'm already comfortable using it on the road for short trips in light traffic here in Shanghai. Took me about 5 minutes to find my balance, and after about an hour riding around my compound avoiding pedestrians and small rodent sized dogs I felt comfortable enough to take it outside on the street with the bigger traffic.
So far I'm quite happy with it. Top speed is faster than I want to go still, and the battery life is quite decent @ +-20km. The entire bottom length of the board is essentially battery.
Having played with most of the things available here, from e-scooters to airwheel's, I think a Longboard is the most fun/ practical in daily use, especially for last mile from metro -> home.
All in all, it feels like a decent quality item. The parts are solidly built, and it doesn't feel like cheap crap.
I haven't tried a Boosted board or other US brand boards though, so can't compare to those, but I do know what cheap crap feels like, and this isn't that.
Some notes on using it
The BenchWheel has a carry handle, but I think there needs to be something smoother around the handle as the sandpaper gets rough.
Its light enough to carry short distances, which is good.
Remote control feels comfortable to use. The speed acceleration is good – its not crazy from stopped, it feels like they ramp up in a curve rather than giving you full throttle immediately. Braking on the other hand feels like they give you too much – you need to be more careful braking as its almost too fast on the controller.
Controller could do with some labelling, there are way too many leds that show different colors (red or green).
The bottom 3 show board battery status. The top two are speed allegedly, although they do flash when the board isn't sync'd.
The remote and the board time out if not used and left on. The lights stay on, but the remote does nothing. Turning both off then on again resolves that. Looks like it does that when left 3-5 minutes unused. I've already hit that once or twice tonight talking to people about the board and not using it for a few minutes, then it doesn't want to work.
My manual is in Chinese, and the instructions are not very clear – I had initial issues syncing the remote with the board despite reading the instructions, and repeating the steps a couple of times.
Their online support was good (aliwang), and I resolved it, but the manual needs to be much clearer.
I've actually had a go at making a better english manual here – http://computersolutions.cn/downloads/benchwheel/
I'll re-iterate, this is really fun to ride. I'm actually excited to go out and ride around, which is good.
I've also been quite lucky in that I haven't fallen yet. Having a brake and not going too fast helps a lot, as you can just jump off if you feel like falling.
Some tech details
N5065 270KV motors x 2 – Not sure what brand, haven't opened it up yet.
Batteries in a 6S 4P (22.2V nominal @ 6 x 3.7V/ 25V peak/ 20v get off the board before you kill the batteries 😉 ) config using 18650's @ 8800MAH / 210WH
Wheels are 80x45mm 78A hardness
Board is 920x240x15mm
7.9KG total weight.
Has a carrying handle cut out in the board (useful!)
Dual motors @ 1800W
Expanded view

Underside view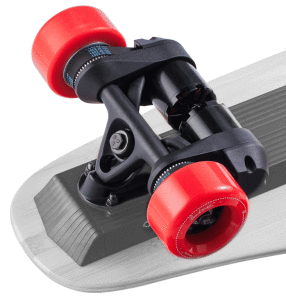 Whats missing
It feels like a strong version 1.0
That said this is whats missing:
Lighting – they need to add underlighting to the board (they actually came out with some the day after I bought mine, grr!, so will be adding mine when it arrives in my next taobao shopping order).
Carrying handle – great idea, but the board sandpaper surface chafes, so it needs some smoother tape around the handle area.
Design – There are tons of cool skateboard designs. BenchWheel have completely ignored that and gone with a horridly bad logo font choice and rather basic and bland black board color. This totally needs some work. Luckily you can buy cool stuff on taobao, so thats a fairly easy remedy.
Packaging – Very white box. Mine actually came slightly damaged, although the board was fine. They need to work on that.
Battery indicator – The Marbel board has a battery indicator on the board. They need to add something either on the top of the board, or underneath the board with a bar for charge value like you get on electric mopeds and scooters. I might mod mine to add that, as thats fairly easy to do. There is a battery indicator on the remote, but its not too accurate / useful.
Manual – the existing one isn't so clear on a few things, even in the Chinese manual.
Some action shots below.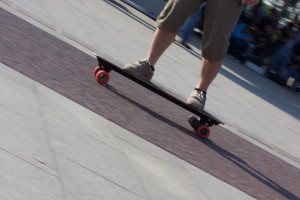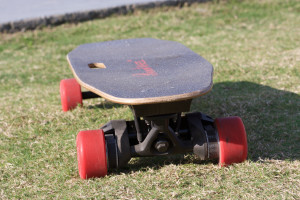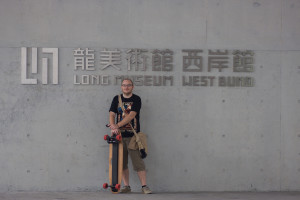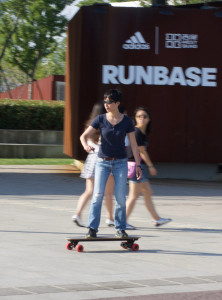 Full set on Flickr
Video:
Archives
Categories
Tags
PHOTOSTREAM