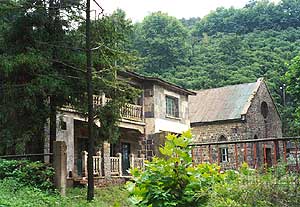 How to Drive to Moganshan
You can get to Moganshan via the A8 or the A20.
A8)  Start off driving to Hangzhou down the A8.
(You'll be on the Hu Hang Gao Jia heading towards Hangzhou)
A20) Take Heng Shan Lu through Xu Jia Hui, up the ramp at Cao Xi Bei Lu to the A20, it will eventually lead to the Hu Hang Gao Jia
Then..
At junction 18 take the Hangzhou Express Ring North heading west towards Nanjing.
Cross the Grand Canal  and turn off the ring road onto the Hang Ning Highway (Exit 16A)
After 20 minutes take the Deqing exit (big cement factory here as a landmark), following the Moganshan signposts.
Carry on straight, but watch out for the oh so typical in China misinformation at the roundabout on the G104.
The sign indicates you should head straight on for "Moganshan in 30 kms".
DON'T, it's a lie!*
*Unless you are driving a bus or large truck, in which case, feel free to take the safer slow route
Instead turn right, and follow the G104 heading to Huzhou, then follow a sign taking you left for Moganshan about 3kms later.
You'll get to the small village Yucun.
You're almost there. Stop, and buy some groceries, water and whatnot in the village, then, at the end of the street turn right, and follow the road up, and up, and up, and up, until you reach Kitto+Joanna's place.
There are a couple of hotels you can stay in up there – the one on the right of MoganShan Lodge is pretty cheap – last time I was up there it was about 80RMB a night for a grungy room. About 50metres to the left of the lodge, there is another hotel in the cheap +-250Range, which has clean rooms and decent showers. (More hotels listed below, under where to stay)
Driving Back from Shanghai
Basically, head back the way you came, down the hill, through the village.
Take the Hang Ning highway heading toward Nanjing.
Once again, ignore the first sign for Shanghai  at approximately +-30km down the Hang Ning (what is it with China, and misleading signage?), and take the second one at approximately +-50km.  Eventually, you'll land on the A9 again, and from there do the usual Yan An Lu to wherever.
Going up to Moganshan should take about 3 hours or so at a medium pace with light traffic on normal days.
If its Chinese New Year or October holidays, add about 3-5 hours to the journey (just to get out to Deqing).
Where to Stay
As Moganshan is now hip and trendy again, Kitto and Joanna now have some competition.
Naked Retreats (Hi Gabriella, and Grant), have a nice but a little $$ for the money villa for rental.
Lane 248 Taikang Road, No 30 2/F, Shanghai. Tel: +86 21 5465 9577
MoganShan House (Actually still Joanna and Kitto) just opened.  Our friends Arthur and Luo Tong over at Lost Pensivos Films were just up there filming a commercial for them.  You can view the commercial here at Youku.
Be warned the narrators voice (Mrs "Sherpa's" I believe?) is a little annoying.
Songliang Shanzhuang, Yin Shan Jie, Moganshan. Tel: +86 (0572) 803 3011.
Moganshan Loft
Haven't been there, but heard its decent enough.
13136103440 or email to reservations@moganshanloft.com
Other options – Due Yue Sheng's Villa, owned by the Radisson, although Chinese Manglement have not made the place endearing according to the reviews on the web.
Call 0572 8033601 for enquiries.
Baiyun Hotel.
Lies at the end of a road running along the top of the mountain, with great views. Lovely old buildings but fairly basic rooms. (This is most probably the one I stayed in last time I was up there, but time has clouded my memory somewhat)
502 Moganshan. Tel 0572 8033336 or 8033382, fax 0572 8033274
What to do?
The beauty of Moganshan, is the peace, quiet and tranquility of not having to do anything.
For those stuck in the rat-race that is Shanghai, Moganshan is a breath of fresh air, a respite from work, and a place to relax.
Meander around the mountain, exploring the paths.  If you've brought a bike or two, take a cycling trip through the local villages, and don't forget to buy some Tea, one of the the local specialities.  Other local flavours include herbs, some of which are popular with the YY's crowd.
Afterwards, chill out and relax at the Mark and Joanna's lodge, reading their extensive (well, for China) of books, and while away the evening with drinks and a pleasant chat.
Insider Tip – If you are going up in your own car,  its also nice to ask Joanna if she needs anything grocerywise from Shanghai.  They'll appreciate that!
Other Options
If you like Moganshan, I can also recommend another similar weekend vacation spot for those looking to get away – Anji.
If there is interest, I'll do a writeup on that also.
Further reading:
http://www.movius.us/articles/chinanow/moganshan.html
(Lisa's notes from a few years ago – pics "borrowed" from there.  Mine are lost somewhere in the depths of Aperture)
http://www.chinatravel.net/Mogan-Shan-guide/introduction/151.html
(From the "CTRIP", but we aren't CTRIP honestly site)
http://www.mogan-mountain.com/
(Chinese)
http://www.danwei.org/china_books/mark_kittos_china_cuckoo.php
A little book that Mr Kitto wrote.
Archives
Categories
Tags
PHOTOSTREAM